Key Insights:
PEPE drops 9.37% as resistance holds at $0.000001933.
The golden cross on the 2-hour chart indicates a bullish reversal.
PEPE's market nears oversold territory, providing a buying opportunity.
Pepe's (PEPE) trading day began with bullish domination before retracing to a 24-hour low of $0.000001629 due to firm resistance at $0.000001933. The bearish domination continued until press time, resulting in a 9.37% drop to $0.000001743. During the slump, PEPE's market capitalization and 24-hour trading volume fell by 10.17% and 56.51%, respectively to $675,031,037 and $435,402,107. If negative momentum breaks through the 24-hour low of $0.000001629, PEPE might find support below $0.0000015. However, a bullish recovery could breach the $0.000001933 resistance with traders eyeing the next resistance at $0.0000022.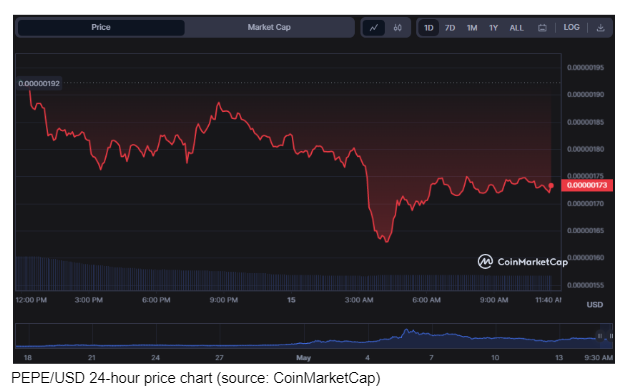 PEPE/USDT Technical Analysis
On the 2-hour price chart, PEPE's 10-day moving average has exceeded the 50-day moving average, indicating a bullish reversal. With the 10-day reading at 0.00000177 and the 50-day reading at 0.00000164, this golden cross might provide a superb buying opportunity for traders looking to profit from PEPE's potential rise.
The price action rise above the longer-term MA reinforces the optimistic perspective for PEPE since it implies a trend reversal.
The Relative Strength Index rating of 47.32 and movement below its signal line imply that the market is experiencing more selling pressure than purchase pressure. However, the expectation of a buying opportunity is supported since the PEPE market is nearing oversold territory.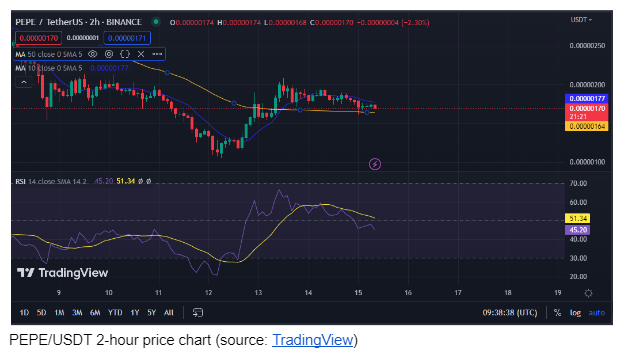 In conclusion, Pepe (PEPE) faces bearish pressure, but a golden cross and potentially oversold conditions suggest a buying opportunity for traders eyeing a bullish reversal.