ZuluTrade (Copy Trading)
Conclusion
ZuluTrade recognizes the importance of risk management and offers a demo account option where users can practice and gain valuable experience. With so much convenience being offered, this platform is suitable for most individuals and worth giving a try. 
ZuluTrade Introduction

ZuluTrade is a forward-thinking online platform with a one of a kind social and copy trading technology. Unlike traditional trading platforms, this one brings together leaders from different brokers onto a single, unified platform.
This innovative approach fosters connectivity among investors and leaders, allowing them to effortlessly connect with one another and automatically replicate each other's trades in a secure and protected environment.
The inception of ZuluTrade took place in 2007 and a large number of people have signed up with it since. Whether you are interested in forex trading or other currency pairs, this copy trading platform could be the right fit for you. Continue reading this ZuluTrade review to learn more about what it offers.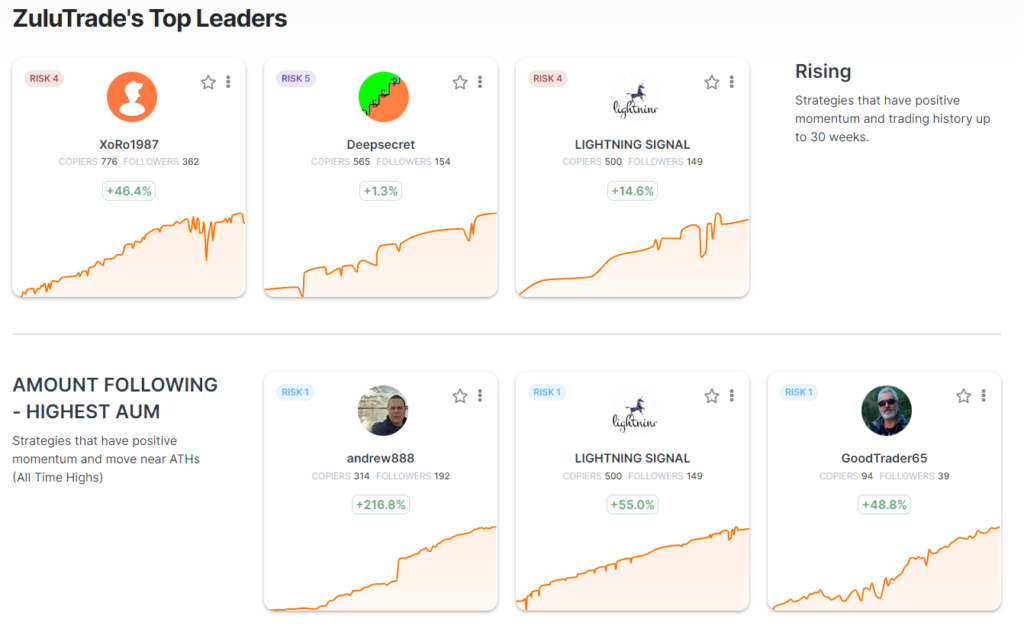 Emulate the Leader you prefer
One big reason why so many people choose this platform is its incredible flexibility when it comes to choosing leaders to follow. Unlike other platforms that impose limitations on the number of leaders you can follow, ZuluTrade frees you from such constraints.
Here, you are granted the freedom to handpick as many leaders as you desire, tailoring your trading experience to your specific preferences. Plus, with a simple click of a button, your platform seamlessly replicates and mirrors the trades of your preferred leader for you..
If you find yourself lacking confidence in your own forex trading strategies, this platformprovides a haven where you can align yourself with skilled leaders who possess unwavering confidence and a track record of success in thousands of trades. By following these seasoned leaders, you gain an opportunity to learn and potentially benefit from their proven trading expertise.
Suitable for Investors
One remarkable aspect that truly sets this copy trading platform apart is its inclusive nature, catering to both leaders and investors. When you sign up with ZuluTrade, you assume the role of an investor when you think about following a leader. On the other hand, the individual who is experienced and being followed and copied by other investors is referred to as the leader. This clear differentiation ensures a seamless trading experience.
ZuluTrade.com offers an array of specialized trading tools. One such tool is the pip calculator. This calculator is ideal for determining the value of a pip in a particular currency pair. Pips represent the smallest unit of measurement in forex trading.
They indicate the price movement of a currency pair. The pip calculator takes into account the current exchange rate, the lot size and the currency pair being traded. By inputting these values into the calculator, it swiftly computes the monetary value of a pip.
This tool proves to be highly beneficial for individuals as it assists with risk management, profit calculation, and setting appropriate stop-loss and take-profit levels.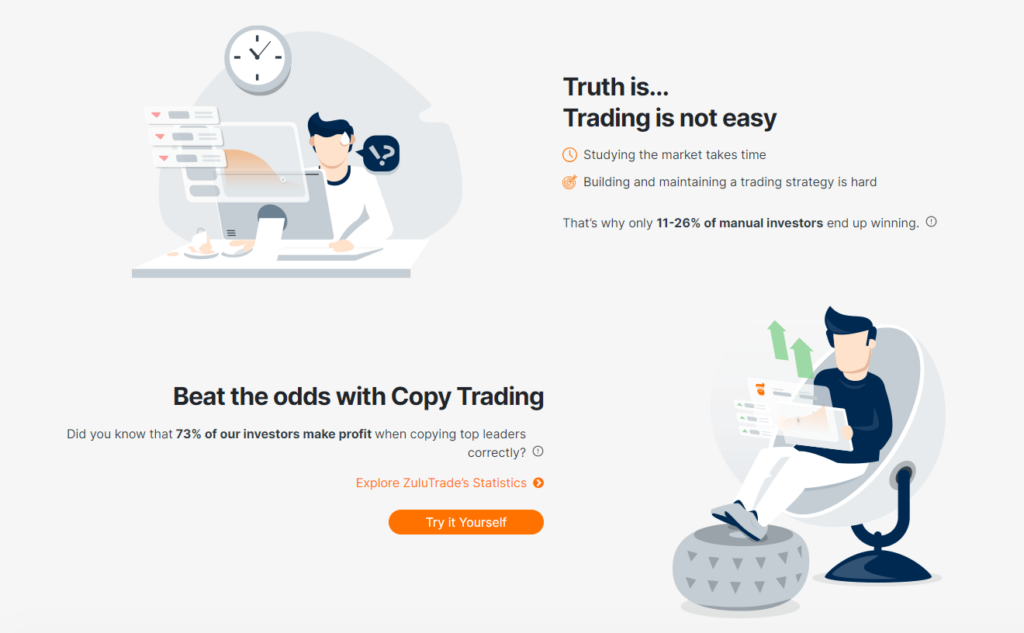 Make the Most of Trading Signals
Signing up with ZuluTrade gives investors the opportunity to follow trading signals that provide insights and guidance about potential trading opportunities. These signals are generated by experienced leaders based on various technical indicators.
The trading signals at ZuluTrade aim to assist investors in making informed decisions by identifying potential entry and exit points for trades. They can be based on specific criteria such as price levels, economic news events, etc.
It's important to keep in mind that while trading signals can be valuable tools, you should not solely rely on them for trading decisions. It would be best to exercise your own judgment, perform additional analysis, and consider your risk tolerance before executing any trades based on trading signals.
A Look at the Platform's Demo Account
ZuluTrade offers a demo account option for its users. This account allows individuals to practice and familiarize themselves with the platform's features without risking real money. You can choose the demo account to explore the platform's capabilities, assess the performance of different leaders, and evaluate the effectiveness of your own trading strategies without. It serves as a valuable tool for both novices who are new to the platform and experienced traders looking to experiment with new techniques.
Final Thoughts
ZuluTrade emerges as a highly innovative copy trading platform. Its approach of bringing together leaders from various brokers onto a single platform fosters collaboration and the opportunity for investors to copy successful trading strategies. What's more, people have the freedom to choose from a wide range of experienced leaders to follow and replicate their trades.
This copy trading platform's inclusive nature caters not only to leaders but also to investors. It provides specialized trading tools that let people refine their strategies and optimize their trading decisions.
Additionally, ZuluTrade recognizes the importance of risk management and offers a demo account option where users can practice and gain valuable experience. With so much convenience being offered, this platform is suitable for most individuals and worth giving a try.